Spotlight on Global Illiteracy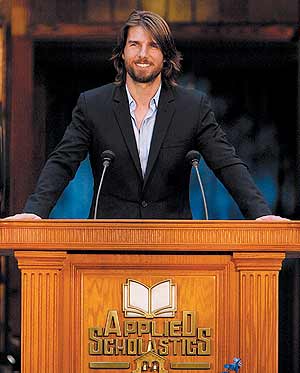 Humanitarian Leadership
Artists Making a Difference
The Last Samurai star and producer Tom Cruise helped open Applied Scholastics International's new global headquarters in Spanish Lake, Missouri (above) and is the chief sponsor of a lower Manhattan detoxification program, based on L. Ron Hubbard's discoveries, that is helping to rid New York fire and rescue vets of debilitating post-9/11 toxins. (See photo below.)
Actresses Catherine Bell, Juliette Lewis, Anne Archer and Jenna Elfman (left to right above) have spoken out at major national forums on behalf of human rights and religious freedom for people of all creeds, colors and cultures. Bell and Archer have taken their protests of religious persecution in Europe before the U.S. House of Representatives; Lewis has marched with mothers, families and educators from across the country against psychiatric drugging of schoolchildren; and Elfman has advanced arts and education programs for inner-city youth throughout America (far right, with singer Isaac Hayes, Anne Archer and U.S. Congressman William Lacy Clay at the Applied Scholastics International headquarters grand opening).
Of primary concern, says Rev. Watson, are the widespread challenges in the nation's education system and the magnitude of social action needed to turn the rising illiteracy rates around. The tale is told in these grim facts: students in America are dropping out of school at a rate of 25 to 60 percent. Combine this with more than 90 million American adults functionally illiterate, and "it is long past the time where any of us can ignore it," she said.
"As a society we can no longer afford to depend on the existing 'solutions,' or leave it to our governments to solve these issues, they are concerns that affect all of us," she said.
She said Scientologist celebrities and friends in a wide range of professional fields have responded to this urgency and have been working together for decades to establish literacy programs that use Mr. Hubbard's discoveries to help people overcome any and all barriers to learning:
"Today, through the combined efforts of many individuals, our literacy programs are bringing that help to 54 nations," Rev. Watson explains. "We're working at the grassroots level to provide an actual technology that teaches one how to study and so allows one to be educated in any subject.
"You'll find these programs in the inner cities through mentoring programs operating under the banner of the 'World Literacy Crusade' and in tutoring programs right down the street on Hollywood Boulevard, where supposedly 'lost' and 'hopeless' children and adults have not only learned to read, but are now teaching others to do so as well."
That program, the Hollywood Education and Literacy Project (H.E.L.P.), has grown to 26 centers in 21 cities across four countries. Spearheaded by Celebrity Centre parishioners, H.E.L.P. was established through a partnership with several social agencies that studied the measurable results of Mr. Hubbard's learning methods.
Honored Guests Applaud Good Works
And it was those tracking these results who applaud the real "doers" in society.
Six-term U.S. House member, Xavier Becerra (R-CA) praised the contributions of Scientologists, stating, "As a representative of the people, my job is made infinitely easier when the people are involved, and they take action, an active role in making a difference. That's how the system works best. I applaud you, your efforts and your undying commitment to protect the rights of those who cannot fight for themselves. Thank you and keep the flame of freedom burning brightly."
Former NAACP regional executive director and executive producer of the NAACP's Image Awards, Ernestine Peters, is one who does not take education for granted. Coming from a family of 10 children growing up in segregated Memphis, Tennessee, she has made it her business to make education a fundamental human right available to all. She is renowned for her tireless community service and is recognized as a crusader for human rights.
"I am using these skills — working with the World Literacy Crusade — to make L. Ron Hubbard's learning technology available to as many people as possible in more than just the inner cities," she explained. "If we arm our people with the tech, we will be able to gain the ground we seek. We will creatively develop and expand our various programs in the communities. We will indeed build on a willing audience that we will then train to accept and apply that technology and thus drastically improve the quality of life.
"It's the most rewarding thing I've ever done. The highlight of my life is to have been touched by the genius of L. Ron Hubbard," she concluded. "Thank you for taking the dream — and finding the way to make it a reality."
New York Firefighters Acknowledge Mr. Hubbard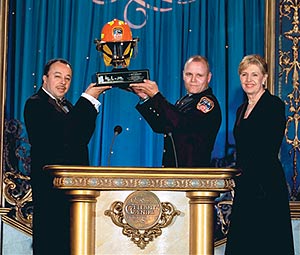 At Celebrity Centre International FDNY veterans Izzy Miranda and Joe Higgins, who presented a symbolic firefighter's helmet to Mr. Hubbard on behalf of FDNY and other emergency vets taking part in the detoxification program.
Even New York Fire Department veterans have traveled cross country to present the results of programs initiated on their behalf by community-minded Scientologists and affiliated groups.
Israel Miranda and Joe Higgins were intimately involved in the rescue and recovery operations at Ground Zero. They traveled to Hollywood specifically to tell their story to the Celebrity Centre gathering — how their health, deteriorating since the collapse of the Twin Towers, had been completely restored by a detoxification program developed in the late 1970s by L. Ron Hubbard. They and more than 200 colleagues have personally benefited from Mr. Hubbard's discovery of methods that dislodge "toxic residues" from the body's fatty tissues.
Determined to bring this technology to those now suffering from Ground Zero's aftermath, it was producer/actor Tom Cruise who helped establish a detoxification facility just two blocks from Ground Zero in downtown Manhattan, making it possible for rescue personnel and other survivors to avail themselves of this program.
Miranda, health and safety coordinator for the FDNY's Uniformed Emergency Medical Technicians and Paramedics, represents an emergency medical organization that answers more than 1.2 million calls every year. About his personal experience with the program, he said, "Shortly after I heard about the Hubbard detox program, I knew it was a no-brainer for New York City." He explained that, after learning of the potential results from the program, he put a colleague on it — a paramedic who had been in excellent health up until September 11, 2001.
"After 9/11, his health took a dive and he ended up on several drugs, he couldn't breathe, his life was falling apart, he was facing forced retirement," Miranda said. "Within days of going through the Hubbard detoxification program he was off all medications. Prior to the program he had missed 79 days of work since 9/11."
It has now been over a year since he went through the program, says Miranda, "and he has missed zero days; he's on zero medications."
Accompanying him to LA was Joe Higgins, one of the most highly regarded FDNY members, a trainer of more than 4,000 firefighters and a man who has fought more than 1,000 fires.
"We just started delivering this program to our 150th rescue worker in N-Y-C," Higgins said. "We only have 49,850 to go — and we are going to do it, because I am obligated to make sure that everybody that wants to do this program has the opportunity to do it.
"Why?" he asked. "Because I feel good. And so should they!"
Miranda and Higgins presented an honorary FDNY fire helmet, its inscription reading, "To our brother, L. Ron Hubbard, from your brothers at the New York City Fire Department: We honor you with this helmet, a symbol of our motto, to protect life and property,' which the legacy of your technology embodies."
Community Activism Nurtured
A number of celebrity Scientologists voice their personal thanks to Celebrity Centre and Scientology — not only for helping them, but also for giving them the ability to truly help others.
Says E! News Daily anchorwoman, Gina St. John, "You come to Celebrity Centre and you find out that not only can you be an excellent artist, you can be of value to your community, you can do good things for yourself and others constantly, create your own universe the way you want and when you portray a character on film or on television, you can portray the kind of character you can respect and admire and other people can see it too."
Adds actor Jeff Pomerantz, "Celebrity Centre
International is revitalizing the artists who not only realize their own dreams, but reach out with Mr. Hubbard's technology to create a better world where man is free to rise to greater heights."
And actress Jennifer Aspen speaks of the spirit of help she has been able to tap as a Scientologist. "Scientology has changed my entire life," she said. "I am happy, I can communicate, I can be an artist; I don't have to be all confused in the pains of life; I can actually go out there and help other people and I am so happy, and so grateful for that."

Celebrity Centre International this year celebrates its 35th anniversary, as well as the 75th anniversary of the historic Hollywood setting for the Hollywood church: The Manor Hotel for Scientologists.
Twelve Celebrity Centre churches exist in the world's cultural centers, including New York, Paris, Vienna, London and Nashville. All Celebrity Centres, like all churches of Scientology, are open to the public.
All Celebrity Centres work with artists and community leaders whose broad visions for social enhancement are essential for the positive progression of society. Their purpose derives from L. Ron Hubbard's 1951 statement: "A culture is only as great as its dreams, and its dreams are dreamed by artists."