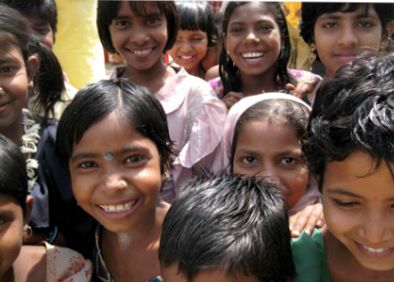 Scientology Volunteer Ministers, Nick and Erin, traveled to Kolkata, India in an effort to make a difference.
Every year, 26 million children reach school age in India. With this, the problem of education in a severely overcrowded school system becomes even more unmanageable. Despite increased school enrollment, some estimate that as many as 50% of India's children do not attend school. That's more than 150 million kids.
Time to bring out the Volunteer Ministers! As Church of Scientology leader, David Miscavige, described the Scientology Volunteer Ministers program: "The final word, as regards our front-line work bringing our help wherever and whenever needed is our corps of Scientology Volunteer Ministers — on call, 24 hours a day in scores of nations."
"Slumdog Millionaire opened our eyes to the horrible conditions in India. We decided to go there and volunteer in the slums and we funded it ourselves," said Erin.
"We thought if we could bring help there to some of the children who had no formal education and no real hope in life, at least that would be doing something about it," said Nick.
While in India, Nick and Erin documented their work in the slums to communicate an accurate view of living conditions in India. "We wanted to let people back home know what it's REALLY like living here, and through raising awareness get more help to the people here, especially the children," reflected Nick.
These two young Scientology Volunteer Ministers helped teach English and mathematics to the slum children. They used study technology developed by L. Ron Hubbard to helping the kids improve their learning.
"Mr. Hubbard discovered that the first barrier to study is not having the real thing there that you are studying about. The real things or the object that you study are called mass," said Erin "So, for example, we made sure the kids had things they could actually count with, 5 little wooden blocks lets say that represented the number 5, so they didn't have to do it all in their heads. They liked that!"
"Conditions here are the worst of the worst," they wrote to their friends. "It's been just a continual amazement to both of us that there have been such magical moments, and bright smiling faces in amongst everything else. With all that's going on in the world it can be very easy to get wrapped up in one's own problems," they continued. "The truth is that there are so many people in need of help and with far worse conditions than most can possible imagine. We decided to turn our efforts toward others for a few months and make a difference."
For more information on the Scientology Volunteer Ministers program visit their web site at www.volunteerministers.org or the Scientology Video Channel.